Ads are annoying and filled with indecent images and videos. You will find ads everywhere, from Facebook to Youtube or any web browser you visit. Ads are acceptable, but our main concern is some ads are not suitable for everyone. Nowadays, most ads are filled with filthy images pointing to dating apps.
I will show you the best and most effective adblock dns for routermethod to block ads on your device completely. It's straightforward, and you don't have to pay a penny. This ad blocker method not only blocks the ads but also block dangerous website, pornographic websites, images containing blood, phishing, and tracking websites.
How to add Free Ad Blocker to your Router?
No matter what Router or Modem you use in your Home or office. If you are using a Broadband Internet Connection, you must have a home router or modem. You must need a Modem or Router to add Ad Blocker details.
Use the below three simple steps to add an ad blocker feature to your Modem or Router.
Step 1. Identify your device brand?
First, make sure what brand of Router or Modem you have in your home. You may have any one of the famous brands like D-Link, TP-Link, Huwai, etc. Your Router or Modem can be from any brand, but it doesn't matter.
Step 2. Identify Router login and password


Check the back side of your Modem or Router to confirm the login details. As you can see in the image, all the Modem or Routers are manufactured with similar login details.
You can use the web address, username, and password to access your modem or router page.
Step 3. Login to your Modem or Router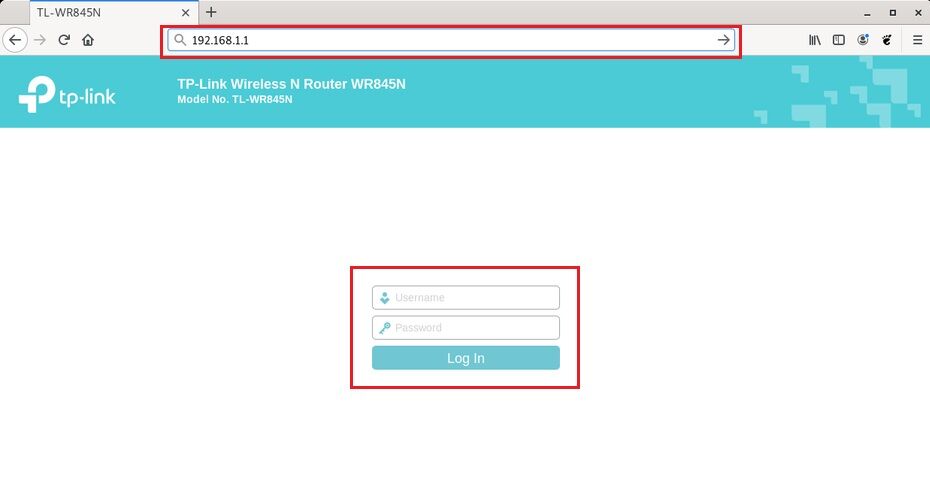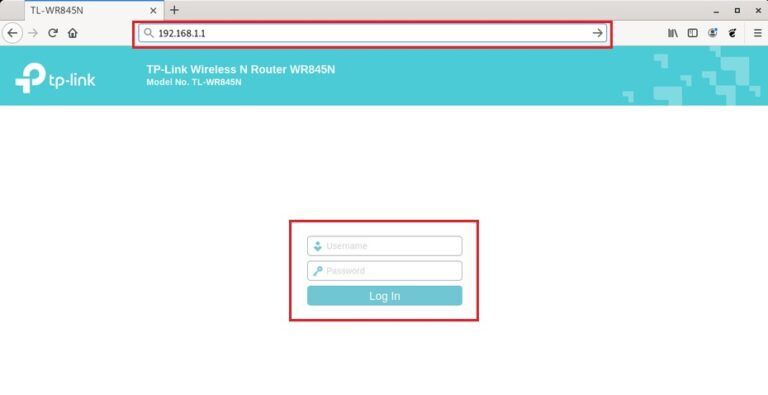 Use the information from your modem or router's back to logging in. Mostly your Modem or Router login will be either 192.168.1.1 or 192.168.0.1, and for all the Modem or Router, the username and password will be either admin or password; maybe for your Modem or Router, it may be different.
Step 4. Set the AdGuard DNS Address
Once you log in to your Modem or Router page, you must find the DNS setting. Most of the time, you will find the DNS setting inside the LAN or LAN Setting.
You can see in the below image that I can find my DNS option by going to Network, LAN Setting.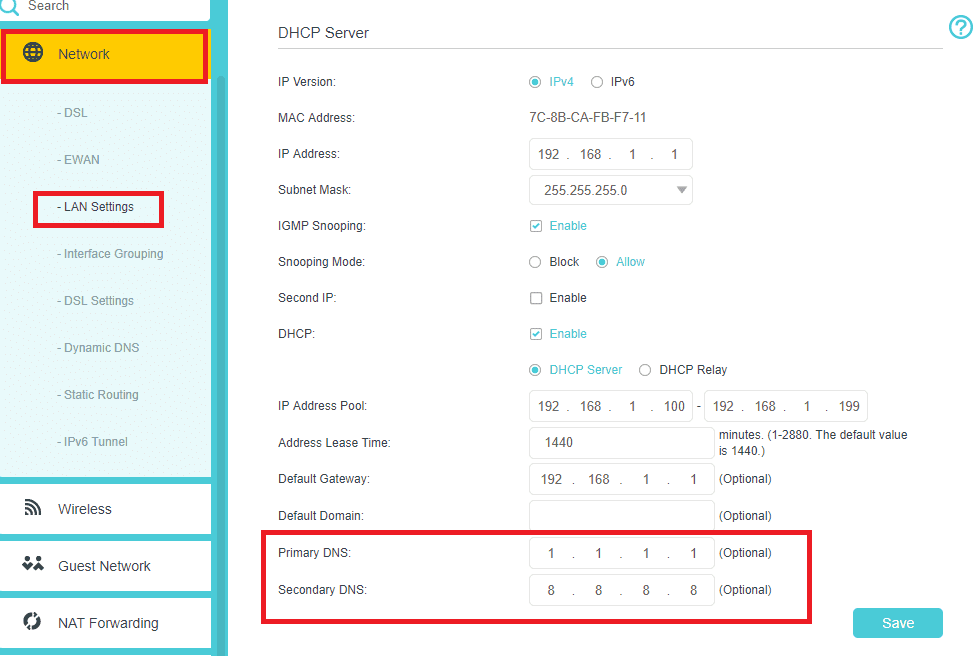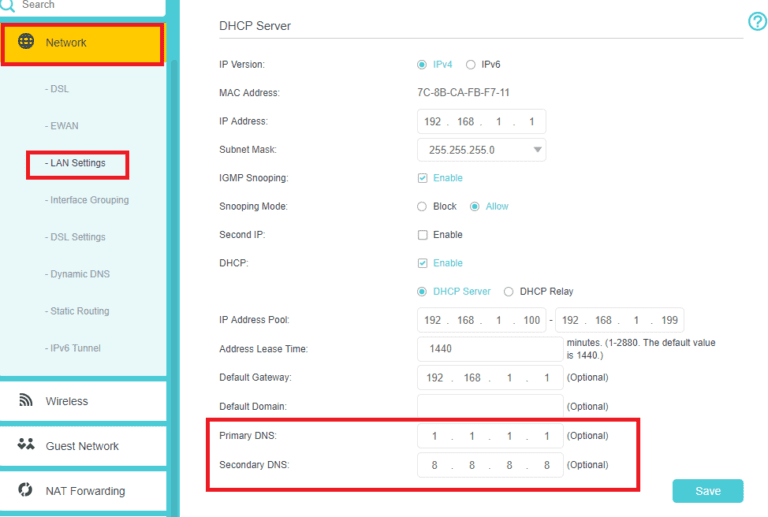 My Primary and Secondary DNS is already filled with some Default DNS address. Now change the Default DNS address to AdGuard free DNS address. I will replace the Current Primary and Secondary DNS with the AdGuard Family Protection address below.

After updating the DNS address, click save. That's it. Now you have successfully updated AdGuard DNS servers on your Modem or Router. Now, you have successfully blocked ads and all the unwanted content.
Follow this method and add an ad blocker. You will gain additional benefits, and your internet will be faster. You can save some of your internet data because this will block all the unnecessary ads and websites in the background.
What is AdGuard Ad blocker DNS?
This is not a secret; we will use AdGuard ad blocker DNS to block ads and every unwanted thing on your device. AdGuard offers free DNS, which acts as an ad blocker; you can use their services without paying a penny.
AdGuard DNS is a privacy-oriented DNS resolution system that blocks tracking, ads, and phishing. When you enable internet or connect to a WiFi, you will be assigned with some default DNS address, mostly googles 8.8.8.8 server or anything your ISP decides.
How Does AdGuard DNS work?
When you use AdGuard ad blocker DNS, when browsing the internet or accessing any App with AdGuard DNS, their server will block if any bad request is sent through their DNS server. AdGuard has a database containing a list of domain names that serve for ad, tracking and fraud purposes, and this database is regularly updated with their team. This way, you will be safe using their ad blocker services.
Which AdGuard DNS to Choose?
AdGuard offers three types of ad blocker DNS solutions, as shown in the image below.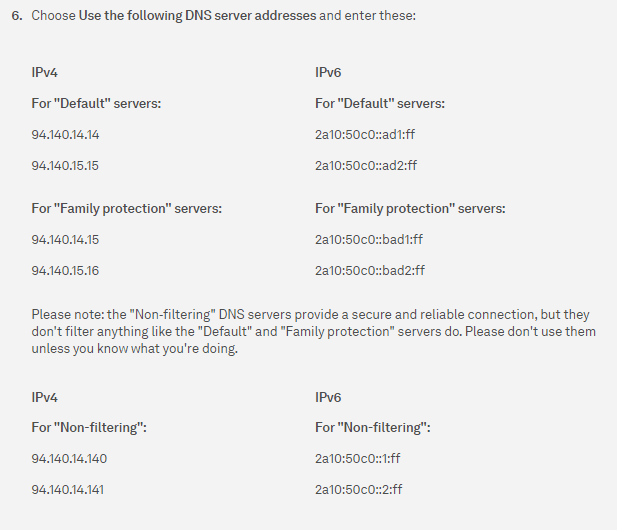 AdGuard Default Ad blocker DNS
This Default DNS is best if you want to block Ads with some security for your device. This AdGuard
AdGuard Ad blocker with Family Protection DNS
Family protection blocks not only ads but also offensive, dangerous, pornographic, violent content, harmful to minors, and disturbing images with dead bodies and blood.
We will use Family protection servers because DNS 94.140.14.15 and 94.140.15.16
AdGuard Non-Filter DNS with Adblocker
If you want to block ads on your device, you can use their "Non-filtering" DNS server and make sure to read their notes. Because besides Ads, those DNS doesn't filter anything.
Can't figure out where DNS setting in your router?
Tell us your device model name and number in the comment section will help you Enable the free ad blocker on your Router!
If you are using an Android device, you can use the Secure Family – Safe and Secure Browsing App without making any changes to your Android network setting. This App does the same thing with just one click.
This solution will also work for the below queries:
Block Twitch Ads
How to Block Youtube Ads
How to Block Ads on Crunchyroll